Whether you're at home or off the UW network, there are a number of resources available to remotely access your computer.
Network Connection Requirements
Initiate Husky OnNet
Locate and launch the application BIG-IP Edge Client
Windows: Click the Start button in the Windows taskbar, search for Big.
Macs: Open the Applications folder through the finder.
Click Big-IP Edge Client to open Husky OnNet.
Click Connect, this will launch the VPN and secure a connection to the UW network.
Log in with your UWNetID credentials
A red circular f5 icon in the Windows taskbar indicates that you are securely connected.
Continue with the next step.
Launch Microsoft Remote Desktop
Windows
Click Start
Type "remote"
Click on Remote Desktop Connection
Create a Remote Desktop Connection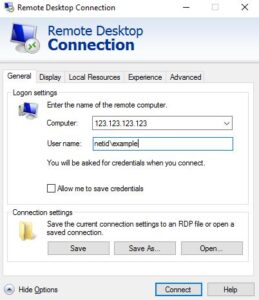 Click Show Options
Enter the computer name or IP address
Enter your username as netid\yournetid (or adai\, wanprc\ instead of netid if you are on those domains)
Leave the box unchecked next to "Allow me to save credentials"
You can also configure your remote connection to use all of your monitors, your local webcam, microphone, printer, etc. using the following instructions.


Monitors

Click the Display tab
Check the box next to Use all my monitors for the remote session

Microphone

Click on the Local Resources tab
Click Settings beneath Remote Audio
Select Record from this computer

Click OK

Home Printer

To be able to print to your local printer while remotely connected to your work computer, check the box next to Printers on the Local Resources tab

Webcam

Click More at the bottom of the Local Resources tab
Check the box next to Video capture devices

Click OK.

When you are done selecting the devices you wish to use, click on the General tab again. Click Save to save the connection or Save As to create an icon specifically for this connection you can use in the future (on your desktop or wherever you like)
Click Connect
If it asks you if you trust the connection, click Yes
Type in your password
Click OK and you will be logged into your computer