External Sharing Disabled
Per
UW IT's website
:
"External Sharing is disabled on UW OneDrive for Business accounts, which means you will not be able to share files outside of the UW, i.e. with individuals with a non-UW email address."
Resources for External Sharing
Other resources can be created that allow teams, rather than individual accounts, share documents outside of the UW. UW IT provides Collaboration Services, but the following is a quick overview:
SharePoint Online
Create a customizable website
Automate processes and workflow
Store and collaborate on files
The default SharePoint Online site storage limit is now 25TB
Learn more about SharePoint Online.
SharePoint Online Modern Communication
Publishing site
Mobile support
Deliver content to a wide audience
Learn more about SharePoint Online Modern Communication.
Microsoft Teams
Chat and video conference with your team
Share and work on files collaboratively, accessible through the chat interface
Customizable – can add web sites and apps such as Planner.
Learn more about Microsoft Teams.
Office 365 Groups
Shared Outlook inbox, shared calendar
Can be integrated with a Microsoft Team
Learn more about Office 365 Groups.
Click here to request one of these resources from UW IT – ensure you put "Allow external users who accept sharing invitations and sign-in as authenticated users" or "Allow sharing with all external users by using anonymous access links" in the Notes field.
Example of Sharepoint Online document libray
All four of the options will come with a document library. The document library's interface is the same as an individual OneDrive account's interface but will be integrated into the four resources in different ways.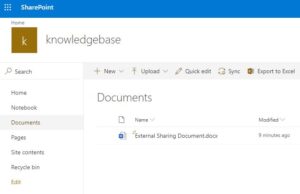 You can share files with external users, who will receive an email with a link to the document. You can also give membership to UW employees – for them, clicking Sync from the library will sync files to their local OneDrive.
ASA-IS OneDrive Resources